Jimmy Hay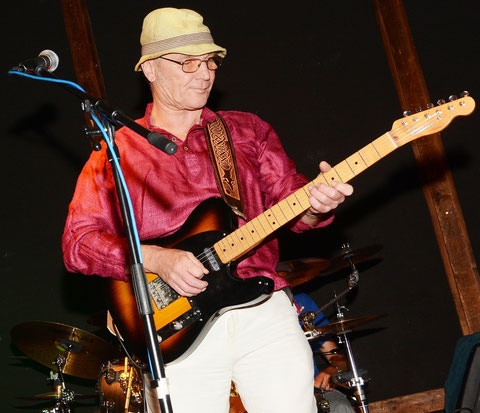 Jimmy started playing in public in folk-clubs in Edinburgh, Fife, and central Scotland, in the late 1960's, rubbing shoulders with performers like Bert Jansch, Davy Graham, Robin Williamson, Gerry Rafferty, Rab Noakes, and Billy Connolly. In 1968, with two other musicians, he founded the experimental folk-rock band, 'Ah! Weary Sunflower' introducing amplified guitars and other instruments to scottish folk clubs, and performing poetry set to music between the songs in their extensive repertoire.
In 1970 Jimmy married, and moved to the West Midlands, where he played, mostly solo, in clubs and colleges, also making a couple of programmes for local radio. Jimmy then went to Manchester University, where he stayed until 1976, at which point, he returned to Edinburgh, where he joined the 'Artie Strauss Blues Band', playing many gigs to enthusiastic audiences in the Edinburgh area.
At about this time, Jimmy visited music Mecca Glenuig, in the scottish highlands, where he teamed up with guitarist extraordinaire Jim Hunter. The musical chemistry was very special, and the two played together, along with fingerstyle specialist Jim Michie, for the next ten years, enjoying great popularity in Scotland.
In 1985, the trio went off to Europe, playing extensively in Holland, Belgium, France, Italy, and Switzerland. Joining forces with 'The Blue Grassholes', from North Carolina, they formed the Street music band, 'Joe Finger and the Bare Hands', and had a wonderful summer playing in the squares and Plazas of big-city Europe. At the end of the summer, the band split up, and Jimmy stayed in Europe to try his luck as a one-man band, in which he met with great success. The high point was playing for 30 thousand people in a football stadium in Frankfurt. Quite an experience!
When the children came along in 1988 and'89, Jimmy realised that he could no longer live life on the road as a busker, and joined the 'Longstreet Jazzband' to take on a new challenge. When the band folded after the tragic death of saxaphonist Tony Wilson, Jimmy began to do pub gigs with guitar and drum machine.
He then met english musician, Chris Black, who introduced him to playing with computer generated backing tracks. Since then Jimmy has been 'gigging' extensively in Switzerland, Germany, Italy and U.K., with his one-man show.
His strong voice and highly individual guitar technique ensure that his high-energy show is well recieved wherever he plays.
In the spring of 2006, Jimmy began singing ang playing with party band 'A Poscht', playing, among other dates, the 'Truckers and Bikers' Fest' in Interlaken.
After three years with A-Poscht, Jimmy went on in winter 2008 to form Jimik, with guitarist Mik Korinek, drummer François Cuvit and bassist Alex Künzli.
In Summer 2009 Mik Korinek left the band to concentrate on other projects and was replaced on lead guitar and backing vocals by Stefan Roethlisburger. The band was then renamed as 'Jimmy Hay and Friends' and began doing gigs under that name in December 2009, adding Pia Widmer as backing singer.
At first, Jimmy Hay & Friends almost exclusively played interpretations of songs by other artists (John Hiatt, Paul Thorn, Jackson Browne, Delbert McClinton, Bob Dylan, Oasis, Rolling Stones, Joe Cocker, The Band, Tom Petty Otis Redding, etc.) From 2012 on, more and more of Jimmy Hay's own compositions found their way into the program, and have become an important component of the repertoire. Thanks to the expressive voice of the front man, the contrast between electric and acoustic guitar, the dynamic interplay between the musicians, and the outstanding vocal harmonies, the band have won themselves many fans. Whoever books this band will have the choice of a compact concert program, with predominantly self-penned songs, hours of 'Party' music with many well-known songs, and acoustic formations for smaller quieter events.